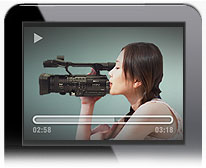 Videocasting is a means of making video image data available via the internet. Videocasts are essentially video blogs. As video image data can now be distributed via RSS, providing that users have an aggregator (data gathering software) such as iTunes or iPodder, they can obtain updated video clips automatically without actually accessing the host website.
The expression by video can shorten the distance between sender and receiver, and can be used on multiple occasions.

For those using iTunes, you can subscribe from here.
December 19, 2008
March 14, 2008
February 29, 2008
October 12, 2007
August 24, 2007